The major talking points from the Geneva Motor Show have been out for a while now, the concept for the Supra GR and Porsche Mission E Cross were all over social media, track toys like the McLaren Senna GTR and Aston Martin Valkyrie AMR Pro were also unveiled. These are all very exciting, however they're a bit mundane. The more exciting reveals were hidden in plain sight by the manufacturers.
Car/helicopter concept
Audi have attempted to solve the problem of congestion with this two in one vehicle. It's fully electric and produces zero emissions. The car/helicopter can be configured to fit your intended use, a detachable electric drive unit can be removed from the passenger pod and a quadcopter unit can be fitted on the roof to allow it to fly away. It's an interesting solution for the issue of congestion, we're not too sure how air traffic control would take it though!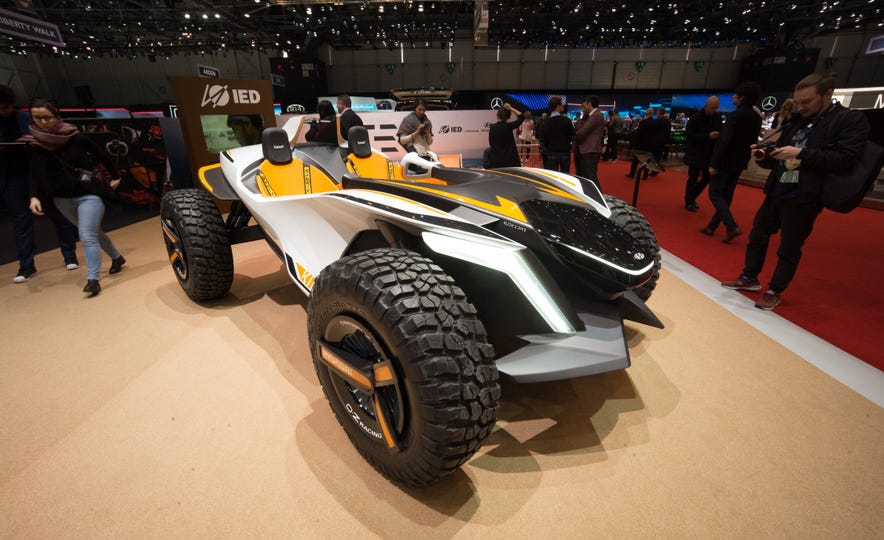 Startech's 'fixed' Land Rover Discovery
It's no secret that the back of the new discovery has divided opinion. The off-centre number plate is a nod to the Discovery's heritage, it leaves space for where a spare wheel would have traditionally been found. Land Rover however, have no intention of fitting the wheel there or offering it as an option. For those who despise this styling cue, Startech, an arm of Brabus, have offered to rectify the feature for just over €800!
Sbarro 4×4+2
Swiss designer Franco Sbarro has a reputation for bringing mad concept cars to motor shows across the globe. He didn't disappoint at Geneva! The latest design from the Swiss creator is called the 4×4+2. Under the strange bodywork sits a Porsche Cayenne, it's easy to miss! Nestled on the side are two extra wheels, for what reason is the main question. Unfortunately, no one has the answer just yet.
Mansory's stand
Mansory are a German modification brand, they started by modifying cars from Rolls Royce and Ferrari. They now work on a huge variety of vehicles including Bugatti. On their stand at Geneva was a particularly bold Bugatti Veyron. The mix of black and white paint stood out on the stand, however it's no match for their Mansory Gronos 6×6, a gold covered Mercedes AMG 6×6!
"I love looking at all the cars from motor shows such as Geneva, it demonstrates the cars the designers would like to create before the accountants have a say! The world would be more fun if money wasn't an issue…" Charlie Gronson, LMC Cars.